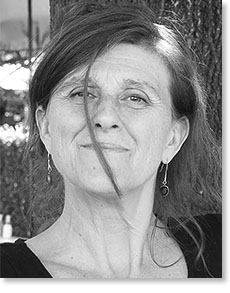 Hannah Folberth-Reinprecht
Language: German, English, Spanish, French
Location: Vienna
Web site. www.folberth-reinprecht.at
email address: office @folberth-reinprecht.at
phone number 004369918863342
Hannah Folberth-Reinprecht was introduced to Authentic Movement in her Dance
Therapy Training with Cary Rick (1988 to 1992). Hannah worked with Janet Adler in
Italy from 1993 until 1995 and immediately felt the connection to the deep essence of
life and nature through this work.
Hannah qualified as a psychotherapist in Austria in 1992 and worked as a dance
therapist in two psychosomatic clinics. As an independent psychotherapist she teaches
the Discipline of Authentic Movement in individual sessions and groups in her studios
in Vienna and Graz, and offers trainings for psychotherapists and dance therapists at
home and abroad.
Hannah focuses on the possibility of connection to our instinctual nature through our
felt body senses and on opening to the wide space of the unknown. In her work with
trauma therapy she has honed her interest in the integration of body-based tools and
awareness practice.
Hannah has trained in Somatic Experiencing with Raja Selvam and Itta Wiedenmann
and holds a diploma in Systemic Therapy and bond-based body therapy (Thomas
Harms), psychoimaginative psychotherapy (Luise Reddemann), and Brainspotting
(David Grand)
Drawing on her Eastern European roots, Hannah also teaches Circle Dances, which
come from matriarchal societies and Roman cultures.