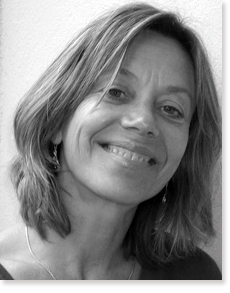 Almut Hepper Kirchhofer
Language: German, English
Location: Biel/Bienne, Switzerland
Websites: www.authentic-movement.eu and www.espace-raumfuerbewegung.ch
Email: almut.hep@sunrise.ch
Phone: +41 32 3658862
Almut Hepper Kirchhofer first encountered Authentic Movement in 1990 in her Dance Therapy Training. A year later she met Janet Adler and knew intuitively that she wanted to apprentice to her, which led to yearly retreats with her that continue to this day.
While studying in the U.S.A. from 1996 -1997, Almut completed a two year training at the Authentic Movement Institute with Neala Haze and Tina Stromsted, and deepened her work with Janet in retreats focused on Mystical Dance. In weekly individual sessions with Joan Chodorow, she strengthened her studies of Jung and active imagination. She also worked with Patrizia Pallaro and Linda Aaron-Cort. In work with Andrea Olsen, Almut developed a fuller relationship between her experience as a mover and choreographic phrasing.
She has been teaching Authentic Movement in Germany and Switzerland since 1998, offering individual and group work. She is also available for supervision via skype or phone. Almut introduces the Discipline of Authentic Movement in dance therapy trainings, at different psychotherapeutic institutes, and in her part-time work at a psychiatric hospital. She also integrates it in her private practice as a Dance Movement and Focusing Therapist. Most of her current teaching takes place in a spacious, sun-flooded studio close to Lake Biel.
Almut likes to teach beginners in the discipline by inviting creativity, supporting the development of an inner compassionate witness and the experience of the body as one's home and as a source for personal growth. A main interest of hers is the process of shaping – of how that which is inside or larger than oneself becomes visible in movement and how experience can be formed into words or remain unnameable. In her daily life, the discipline helps her to welcome the present moment, to trust not-knowing and to experience moments of deep clarity, connectedness and freedom from doubt.
Almut Hepper holds a degree in Music and Movement Education/Rhythmics from the University of Music and Performing Arts, Vienna, Austria, and a state degree in Arts Therapy ED. She is a Dance/Movement Therapist btk and Trainer BTD and a registered Movement Analyst in the method of Cary Rick RDBA. Almut works as a certified Focusing Therapist and Trainer of the German Training Center for Focusing and Focusing Therapy DAF. She studied Somatic Movement Therapy and Performing Arts at the Moving On Center in Oakland, CA and Trancework in the Therapeutic Context in Charlottenberg, Germany.