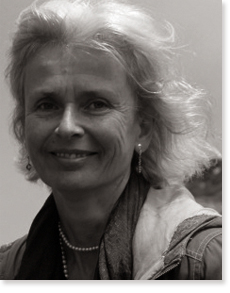 Cornelia Schmitz
Language: German and English
Location: Braunschweig, Germany
Website: www.bewegungsgewebe.de
Email: corn.schmitz@web.de
Phone: +49 531 7073880
Cornelia Schmitz began to practice Authentic Movement in 1990 as a student of Linda Hartley and then in 1998 she began practicing the Discipline of Authentic Movement with Janet Adler. The practice has become central to her work and life, bringing her a deep sense of recognition and the longing to be as close as possible to her truth as an embodied human being.
Cornelia has taught Authentic Movement for individuals and groups in Europe since 1997, both in German and in English. She receives individuals and groups in her studio in Braunschweig, offering the Discipline of Authentic Movement, psychodynamic-oriented body-based psychotherapy, supervision and Bewegungsgewebe (her own approach to supporting the unfolding of movement and the refinement of embodied awareness, combining body-work and the Discipline of Authentic Movement). She also teaches at different psychotherapy institutes.
Her commitment to the Discipline of Authentic Movement, under Janet's guidance, is essential for her orientation in life, together with her profound interest in the anatomy and physiology of the subtle and material processes and tissues that form us. She is devoted to the mystery of human embodied presence and its development toward consciousness. A playful mind is seriously essential to the unfolding of her work.
Cornelia has worked in hospitals (psychosomatic as well as psychiatric) and in counseling centers. She did three years of scientific research in the Lower Saxon Instutiute for Criminology. She holds lectures and courses concerning the immune, endocrine, and nervous systems. She also finds expression in visual arts and writing and has followed a healing tradition of inner guidance since 1983.
Cornelia Schmitz has a diploma in Psychology, in Integrative Bodywork and Movement Therapy and has completed training programs as a Gestalt Therapist and Bodyworker, a Client-centered Psychotherapist and as a Psychodynamic Psychotherapist. She has done extensive studies of various forms of Somatics since 1981, particularly Creative Dance, Contact Improvisation, Cranio-Sacral Movement Therapy, Vocal Expression, Aikido, Qi Gong.