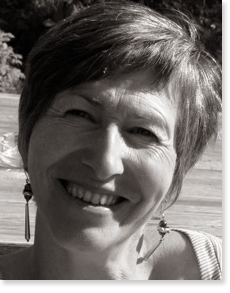 Françoise Broillet
Languages: French, English and German
Location: Atelier Terpsichore, La Roche 17, CH – 2012 Auvernier, Switzerland
Websites: https://www.dansetherapie.ch and http://mouvementauthentique.ch
Email: francoise.broillet@psychologie.ch
Phone: +41 32 730 19 54
Françoise Broillet met Janet Adler in 1994, joined an on-going retreat group with her to study the Discipline of Authentic Movement, and continues that study today. She immediately knew that she had found her lineage, a place of belonging, a sacred space.
Françoise works in Switzerland and France. She offers monthly group meetings, workshops, group and solo retreats and preliminary training in the Discipline of Authentic Movement to a variety of health professionals and people called by presence, awareness and truth. Françoise welcomes Circle of Four learners as a primary teacher in her bright studio in Auvernier Lake Neuchâtel (Switzerland). Supervision is feasible by Skype.
Françoise work is grounded in her respect for the conscious and unconscious processes embodied in each person, which, finding a shape and a space, may be revealed in the safe and compassionate relationship between movers and witnesses. Her work is also guided by the mystery of the unpredictable becoming visible and by the question of the invisible.
Françoise practices regularly in peer groups and with other Faculty members, focusing especially on mystical practice and teaching issues.The Discipline infuses all aspects of her everyday life and helps her welcome change, cultivate loving kindness, and remain open to energetic phenomena.
In her private professional practice since 1992, with body wisdom at the core of her inquiry, Françoise integrates the Discipline of Authentic Movement in her Dance Movement Therapy (DMT) sessions as a gateway to overcome personal issues, heal wounds, or integrate transpersonal experiences. She supervises certified DMT's and introduces the Discipline in various DMT trainings. She has also worked as a DMT and/or as a psychologist in several institutions with visually impaired adults, with women and children enduring domestic violence, and with people suffering from mental illness.
Françoise holds a Master of Dance Movement Therapy  (Laban Centre, London/Hahnemann University USA). She is certified in psychotraumatology and Lifespan Integration. She is a registered member of the Federation Suisse des Psychologues and of the Association Professionnelle Suisse des Arts-Thérapeutes.
She contributed to the translation of Janet Adler's book Offering from the Conscious Body, into French, published in 2016 under the title of Vers un corps conscient, la Discipline du mouvement authentique. Bruxelles: Contredanse.
Francoise wrote De la Danse Mouvement Thérapie à la Discipline du mouvement authentique, un art de la présence et du verbe in Revue annuelle de la Fédération Française des Arts-Thérapeutes, Art-thérapie et langage, 2017.