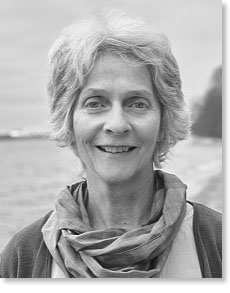 Irmgard Halstrup
Language: German, English and Swedish
Location: Bargteheide, Germany
Website: www.authentic-movement.de
Email: info@authentic-movement.de
Irmgard Halstrup began loving authentic movement during her Dance Movement Therapy training in the late 1980s. She first met Janet Adler in 1995 and has been studying with her regularly since then, individually and in groups, now collaborating with her as a member of Circle of Four. 
Irmgard has been offering Authentic Movement groups since 1998, always informed by the teaching of Janet. She teaches the Discipline of Authentic Movement in individual and group work, supervision, and small individual retreats, including groups in different parts of Europe. The Discipline of Authentic Movement offers, for Irmgard, a space that contains the searching and finding, the fullness and the emptiness, as well as new questions, mysteries, and dimensions. The essential aspects of the Discipline of Authentic Movement infuse also her therapeutic work, for example speaking only one's own experience, or the awareness of different aspects of consciousness. A particular interest of hers is Authentic Movement of the voice. 
Irmgard has been working as a psychotherapist and Dance Movement Therapist since 1986, including 10 years of experience in the training of professional Dance Movement Therapists. Her studies in Process Oriented Psychology, beginning in 1993, include work with Amy and Arnold Mindell and mainly with Carmen Baechler. In 2008 she started studying voice work inspired by Roy Hart, mostly with Ulrik Romer Barfod. Nature, too, has always been a teacher to Irmgard – the organic inherent order visible in different ways, the vastness of certain landscapes, the vibration of silence.
Irmgard Halstrup, Psychologist (Dipl.-Psychologin), Psychotherapist (Psychologische Psychotherapeutin), Dance Movement Therapist (Tanz-/Bewegungstherapeutin BTD), Supervisor (Supervisorin BDP), Process Oriented Psychologist (FG POP Zurich), Trauma therapy: Somatic Experiencing Practitioner, NARM Practitioner.
Irmgard's translation into German of Janet Adler's book Offering from the Conscious Body: The Discipline of Authentic Movement (2002) was published as German version in 2012. Her article about presence as a quality of Dance Movement Therapists, "Präsenz – ein meta-skill aus und in der Tanztherapie" is published in: Zeitschrift für Tanztherapie, (2008). The experience of presence is also discussed in "Präsenz als Meta-skill?", her thesis for Diploma in Processwork, Zurich, (2003). Article: Halstrup, I. (2015), "To the bones – and through: The Discipline of Authentic Movement and voice work", Journal of Dance & Somatic Practices, 7: 2, pp. 287-298, doi: 10.1386/jdsp.7.2.287_1.