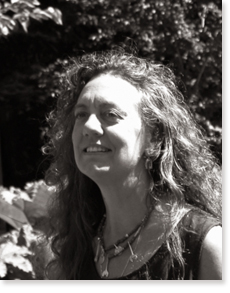 Jillian Froebe
Language: English
Location: Demington, Washington, USA
Website: http://www.turtlehavensanctuary.com/jillian-froebe.html
Email: jillianfroebe@gmail.com
Phone: +1 360 319 8704
Jillian Froebe has practiced and studied the Discipline of Authentic Movement for over twenty-five years, since her first encounter in a graduate art therapy seminar with Suzanne Lovell. Jillian has also studied with Tina Stromsted in seminars with other psychotherapists in Italy; with Zoe Avstreih in the summer Naropa University Dance Movement Therapy program; and with Lynn Fuller in a long term Northwest practice group. Jillian has been studying with Janet Adler since 2006 when they became "Northwest neighbors." Long before that, she considered Janet as her primary teacher, particularly in relationship to Jillian's direct experience of the Discipline of Authentic Movement as a ceremonial and mystical practice.
Jillian is an Expressive Arts and Interspiritual mentor, counselor and companion, offering the Discipline of Authentic Movement as a trusted and integrated path in cultivating and honoring the Witness in all aspects of daily living. She works with individuals, couples, and groups and offers retreats at Turtle Haven Sanctuary where she also resides. The foundation of Jillian's teaching is the ground form, the continual returning to "beginner's mind and body." She guides others in the cultivation of the compassionate witness while deepening the reciprocal connection between "Self and Other," be it in intrapersonal, interpersonal, or transpersonal relationships.  Jillian is particularly interested in the relationship between personal and collective evolution and how a strong witnessing practice fortifies the cultivation of effective spiritual, social, and environmental activism.
Authentic Movement, a practice of deep listening to embodied wisdom, is often coupled with Jillian's passion for tending dreams as gifts arising from the Mystery. Synchronicity emerging in community through movement, image, and word reflects the truth of our interdependence and is central to Jillian's passion for these intersections. Jillian's teaching is focused on weaving ritual and contemplative practice that honors playful, emotive, creative, energetic, and silent expression.
Jillian Froebe holds a BS degree in Theatre Arts, Communications and Education from Syracuse University and an MA degree in Psychology, with a concentration in Depth Psychology and Expressive Arts from California State University, Sonoma. She has pursued postgraduate studies in Expressive Arts, Psychotherapeutic, and Jungian practices at various institutions and has taught Authentic Movement within Expressive Arts Therapy undergraduate and graduate level seminars and university courses. She pursued Interfaith Chaplaincy and Spiritual Care training and was ordained in 2012 at the Chaplaincy Institute in Berkeley, California.