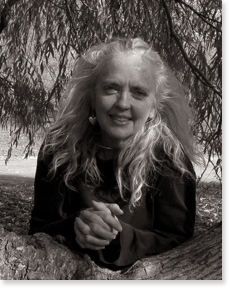 Lisa Tsetse
Language: English
Location: Ithaca, New York, USA
Website: www.lisatsetse.com
Email: ltsetse65@gmail.com
Phone: +1 607 339 6761
Lisa Tsetse first experienced the Discipline of Authentic Movement with Janet Adler in 1985 and has since then continued studying and practicing the discipline with her. She moved to Ithaca, New York, in 2007, where she teaches and practices the Discipline of Authentic Movement with infinite respect for the mystery and integrity within the form itself. She is rooted in gratitude for each member of every circle who closes and opens their eyes, speaking when and as they can, again and again.
As co-founder and director of the Fort Wayne Dance Collective, a non-profit arts collective in the Midwest from 1979-2007, Lisa worked to understand and guide collective awareness in decision-making and creative process. During this time, from 1996-2006, she taught the Discipline of Authentic Movement and participated in the development of the Community Long Circle with her life partner, Sox Sperry, also a dedicated Authentic Movement practitioner.
Since 1997 she has been a member of the Stumps Sprout Collective, a circle of 21 individuals who meet annually in Hawley, Massachusetts for five days to study and practice Authentic Movement together. This circle has become a "leader-full" collective bringing diverse professional and personal backgrounds to the work while focusing on the essential nature of the ground form as it continues to evolve.
In the midst of these years of commitment to the discipline she has investigated somatic understanding in her work as a massage therapist (1994-2004), as a certified Feldenkrais practitioner (2000-present) and as a Hatha yoga teacher (1998-present). She has also worked in arts education as a multidisciplinary and dance artist in residence (1982-present) in public schools and community centers where she provides movement residencies to support and enhance core curriculum subjects.
Lisa Tsetse has a B.A. in Sociology and Women's Studies from Indiana University (1987). Her essay, "Moving the Outer Rim In" appears in Authentic Movement: Moving the Body, Moving the Self, Being Moved, edited by Patrizia Pallaro (2007). She is the author of "Self and Other: The Practice of the Community Long Circle" in A Moving Journal Spring 2003, and co-author of "The Community Long Circle: Authentic Movement as Nonviolent Community Action" in A Moving Journal Fall 1998.