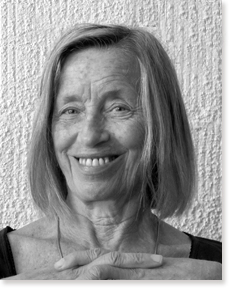 Marianne Bachmann
Language:  German, English
Location: Zürich, Switzerland
Email: bachmannzeb@bluewin.ch
Phone:  +41  44 720 44 68
Marianne Bachmann first became acquainted with the Discipline of Authentic Movement in 1990 through a weekly study group of movement and dance therapists led by Eileen Nemeth. After meeting Janet Adler in Greece in 2000, Marianne joined Janet's yearly July group in Sebastopol. The continuity of this group and individual sessions with Janet were a source of great inspiration; again and again, Marianne experienced Authentic Movement's power to access the deep realms of the unconscious. Parallel to this, Marianne and other Authentic Movement colleagues created a study group in Zurich to explore Authentic Movement in theory and practice.
Since 1980, Marianne has been building her therapy practice. After 2000, she began teaching the Discipline of Authentic Movement to individuals and on-going weekend workshops at the ZeB Movement Center, a spacious, bright studio in Thalwil, Zurich. She offers week-long retreats in southern Switzerland in the stillness of nature and is also a Discipline of Authentic Movement Supervisor.
Dance and movement, touch and voice have profound significance for Marianne; they are her essential, even spiritual, resources. The concepts of the Discipline of Authentic Movement and mystical practice are the red thread that runs through her professional activities. The basic principles underlying Authentic Movement, those of mover consciousness, witness consciousness and the relationship between the two, have always fascinated Marianne. Her focus is on the messages and gifts of the conscious body and energetic phenomena as the seeds of transformation. This means surrendering to not knowing, thereby creating space for moments of deep inner presence and emptiness. Teaching leads Marianne to the core issues of the Discipline of Authentic Movement as she searches for clarity and answers to the mysteries of life.
Marianne received a degree in physical therapy in 1965 and studied psychomotor therapy and dance therapy in Zurich and Munich in the 1970s-80s. She worked as a physical therapist for two years in Brazil, then, back in Zurich, added newly acquired modalities to her work in agencies and private practice. For many years Marianne taught at the Basel Institute for Applied Psychomotor Therapy, a training program affiliated with the University of Basel. In 1996 Marianne completed training in Craniosacral Therapy. In 1998 she met Peter Levine and became familiar with Somatic Experiencing; she has been assisting Peter for many years. Other major influences came from many years of process-oriented psychotherapy with Arnold Mindell and body-mind centering with Bonnie Bainbridge Cohen.