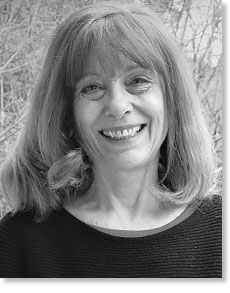 Rosa Maria Govoni
Language: Italian, English
Location: Bologna, Italy; Lugano, Switzerland
Email address: r.m.govoni@sunrise.ch
Phone number +39 339 8931934
Rosa Maria Govoni met Janet Adler in the summer of 1977 at a Harvard University summer program and was inspired to enter training in Dance Movement Therapy (DMT) and later in Authentic Movement. The nonjudgmental attitude that Janet conveyed resonated in Rosa Maria and met her deep longing for an authentic way to live and work.
In California, Rosa Maria met Neala Haze, who supervised her internship in 1981/82.  Italy in 1984, Rosa Maria worked as a DMT and Psychotherapist and a DMT teacher in Art Therapy Italian's DMT Training Program. In 1992 she began her studies with Janet, first for a year in England and then for nine years organizing and participating in the summer retreats where Janet taught, with Tina Stromsted's and Eleni Levidi's assistance. Rosa Maria continued to study with Janet in Greece, Italy, California, and Canada. Beginning in 1995, she studied with Joan Chodorow in summer courses in Geneva, Switzerland, and in Italy in 2003. She has also studied with Zoe Avstreih and Julia Gombos.
Rosa Maria was the director of the four-year DMT training program at Art Therapy Italiana from 1989 until 2006 and was then the co-director of the Institute of Expressive Psychotherapy until 2019. She introduced Authentic Movement into the curriculum as a practice to prepare and guide dance movement therapists and expressive psychotherapists. Tina Stromsted and Patrizia Pallaro were teaching there for many years, and Zoe Avstreih also taught courses, with Rosa Maria assisting. For the last 10 years she has been teaching these courses with her Italian colleagues.
In her clinical work, especially with children, and in training and supervising students, Rosa Maria has found that cultivating authenticity, creativity, awareness, and spiritual care are fundamental tools for promoting psychological healing, psychic and spiritual growth, and embodied knowledge. The Discipline, with its practice of direct experience in movement, offers the possibility of deep healing and growth.
Rosa Maria offers individual work, supervision, and Authentic Movement retreats regularly in Switzerland and Italy, teaching the Discipline in Bologna and Milan. She also offers intensive training in Italy in Authentic Movement and teaches introductory courses in many different institutions in Italy, Switzerland, China, and Russia.
Rosa Maria Govoni is a Psychotherapist since 1989, BC-DMT since 1992, and a DMT teacher and supervisor. Her Psychotherapy practice is psychodynamically oriented, integrating Authentic Movement, Sensory Motor Therapy, and Restorative Resources for trauma work. She has written articles and publications about DMT, Psychotherapy, and Supervision. She assisted in editing the Italian translation of Joan Chodorow's Dance Therapy and Depth Psychology, Patrizia Pallaro's Authentic Movement, and Janet Adler's Offering from the Conscious Body. Rosa Maria wrote the Italian introduction to Janet's book with colleague A.P. Weatherhogg.